Meals your heart will love.
Fresh and delicious fully-prepared meals.
Hand-delivered weekly.
Let us help you enjoy healthy meals, effortlessly!
Some of our favorite meals — made with love.
Low in sodium, saturated fats and sugar.
Vegetarian Roasted Butternut Squash Salad
with spring mix, cranberries, walnuts, and apple cider vinaigrette
Apple Cider Tofu
with apple, fennel & brussels sprout hash
Pizza Egg Bake
with pork sausage, peppers, onions, black olives, mozzarella & marinara for dipping
Baked Pesto Chicken
pesto chicken topped with goat cheese and roasted red peppers, served over mashed potatoes & green beans.
Spiced Roasted Veggie Buddha Bowl
with chickpeas, butternut squash, brown rice, red onion & spices
Southwestern Chicken Wrap
chicken, black beans & corn, salsa, cheddar
Cilantro Lime Chicken Bowl
with black beans, corn, red onion, tomatoes, cilantro lime brown rice, lime
Keto Pesto Tofu Healthy Trash Plate *EAT FIRST*
pesto tofu with roasted red peppers, artichokes, feta cheese & slaw
Low Carb Chicken Bacon Ranch
with veggies
Chicken Sausage with Sauerkraut
Handmade Chicken Sausage served over a bed of German Sauerkraut with apples & bacon and side of potatoes
Pasta Primavera With Veggies
with pasta, zucchini, sweet pepper, broccoli and tomatoes, basil pesto
Sloppy Joes
made with 90/10 ground beef, served with mashed potatoes & corn
Pasta Primavera with Chicken & Veggies
with chicken breast, pasta, zucchini, sweet pepper, broccoli and tomatoes
Chicken with Peas, Bacon & Prosecco
with mashed potatoes and pecorino romano
Cornflake Crusted Chicken & Waffles
with chicken breast, low fat waffles, sugar-free syrup, and cornflakes
Beef Goulash
with tomatoes, peppers, onions, elbow macaroni, beef
Indonesian Fried Rice with Chicken
fried rice loaded with veggies: carrots, peas, mushrooms, peppers, and scallions, garnished with cilantro and lime
PB&J Parfait
with greek yogurt, grape jelly, peanut butter and oats
Chicken with Rosemary & Mushrooms Over Linguine
served with a marsala
Apple Cider Pork Chop
with apple, fennel & brussels sprout hash
Fresh, fully-prepared meals hand-delivered weekly.
Breakfast • Lunch • Dinner
Gluten-Free, Dairy-Free, Vegetarian Options Available
How it Works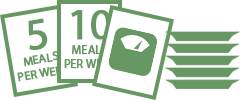 1 Choose a weekly meal plan
Choose what fits your lifestyle. Whether you want to eat our delicious meals a few times a week or every day as part of a calorie-counting weight loss regimen, it's up to you.

2 Select your preferences and meals
Tell us your unique dietary preferences. We'll email you each week with a menu of meals that caters to your tastes. You can sit back and enjoy our recommended selections or select meals yourself.

3 We prepare and deliver your meals
We do all the work! Our gourmet chefs cook your meals to perfection so all you have to do is unpack and heat them up. We hand-deliver meals to your home up to twice per week.
Here's what our customers have to say about us.
"Effortlessly Healthy has been the best weight loss program I have ever done. I have had weight issues all my adult life and I have finally learned to eat healthy, delicious meals with the help of effortlessly Healthy. I did a weight loss challenge with Effortlessly Healthy for 8 Weeks and lost 13 pounds.. I couldn't be happier. I have energy and I feel great. Effortlessly Healthy has a supportive and friendly atmosphere. Wonderful program, great food. 'It Really Works'! Thank you Effortlessly Healthy."
-Donna Argento
"I am enjoying my meals and my service. I have a lot less wasted food in my house from buying things and never getting to cook them, and I save a lot of time having things packed and ready to go. Thanks."
-Beth P.
"Just want to say Kudos on your loaded Egg Bowl. This morning was the first time I ever had that. I am not a breakfast order person, but from time to time I have chosen a breakfast meal to replace one of my lunch and dinner ones. I really like the loose egg bowls that are mixed with vegetables etc. My very very favorite now is the loaded Egg Bowl. I know you can't remember this, but any time that bowl is available, I would love to have one instead of a lunch or dinner meal. They are delicious! Just wanted to let you know that! Bless you guys!"
- Debra P.
"All I can say is WOW! I found EH on their food truck, and now I order their meals and have them delivered. How convenient is that? Delicious gluten-free meals. I really hope to see this business do well! A+"
- Chelsea L.
"When I signed up for Effortlessly Healthy I wasn't even thinking about losing weight. I was just happy I wasn't going to have to cook after working all day! Yet here we are a few months later and I'm down 10 pounds! The meals are delicious and made with real, whole ingredients that are all super fresh. Colorful salads, healthy trash plates, chicken parm! I'm never bored with the selection and portions are perfect. Effortlessly Healthy has made taking care of myself tasty and convenient. I'm so excited to continue my weight loss journey with them!"
- Kim K.
"Congrats, Shaina! I'm proud to say that EH meals were an integral part of my 35lb weight loss DURING the pandemic. And after losing my husband in April of this year, it's been an assurance that I can always count on healthy meals on days that I find little ambition to prepare food or eat at all. Thanks! Here's to many more successful years for your business!!"
-Marcia B.
"Congrats! You're killing it! Best food delivery in Rochester! (I've tried them all.)"
-Margit J.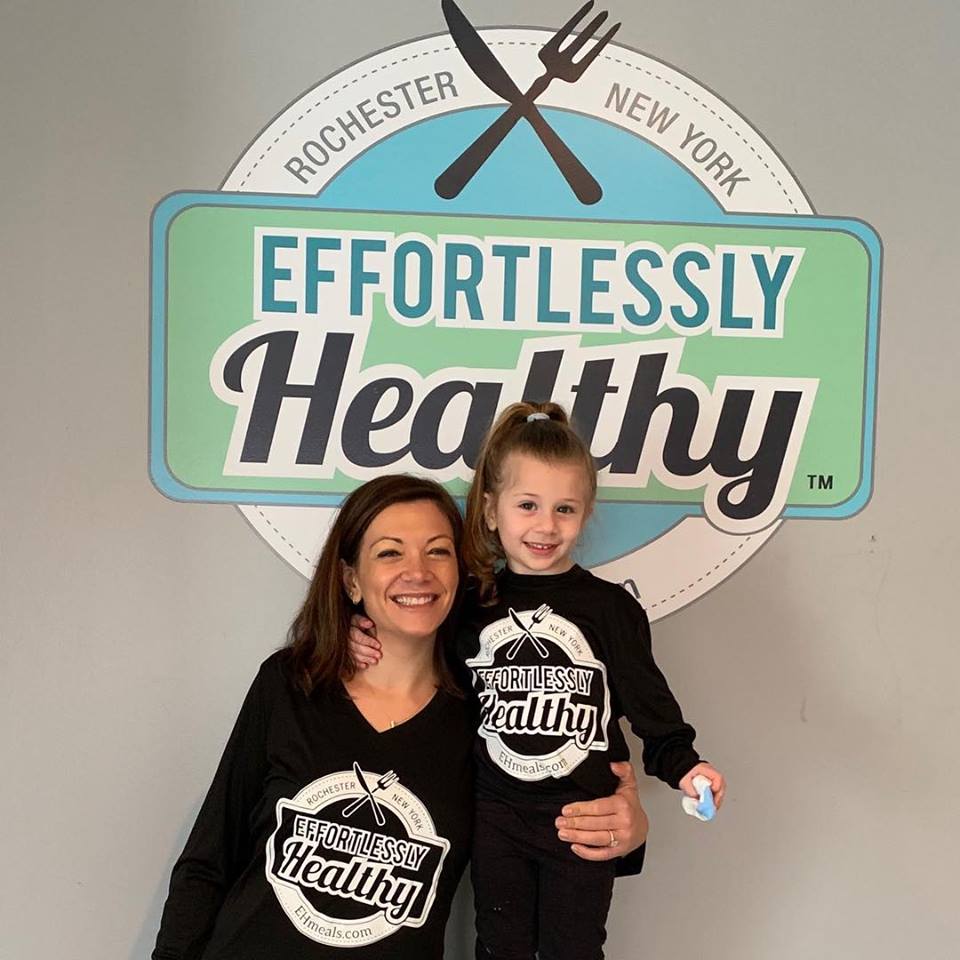 Never worry about preparing your meals, grocery shopping or cleaning again.
Let us do the work for you so you can enjoy your life!
View Meal Plans
No commitment. Skip or cancel anytime.